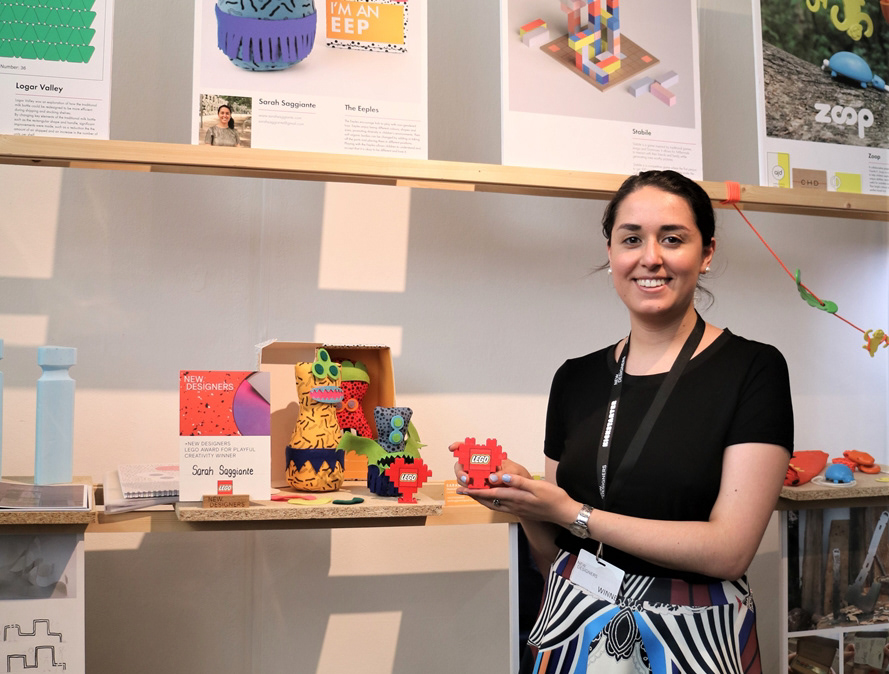 Ravensbourne product design student wins the LEGO Award at New Designers
Sarah Saggiante from Ravensbourne's BA (Hons) Product Design course has won the LEGO Award at this year's 
New Designers
 for her non-gendered toy encouraging children to embrace difference, 'The Eeples'.
New Designers is an annual celebration of creative talent, hosting over 3,000 breakthrough designers from universities across the UK. The event takes place across two weeks, the first week dedicated to textiles, fashion, ceramics and design crafts, the second featuring architecture, product design, illustration and digital arts.
This year Ravensbourne's architecture and product design courses exhibited between 4-7 July, showcasing a range of projects from final year students.
On Wednesday 4 July, New Designers hosted their awards ceremonies for this year's UK graduates, selecting students from a range of industry sponsored categories. Sarah's 'The Eeples' toy collection was recognised for its "immediate, simple and colourful appeal". The judges also commended Sarah for the fact she crafted a narrative around 'The Eeples' as a group of aliens visiting Earth from the planet 'Biru', stimulating the imagination of children engaging with the toy.
Sarah will be offered the chance to visit the LEGO Group's headquarters in Denmark as part of her prize, as well as receiving coaching sessions from the LEGO Creative Play Lab's Senior Innovation Director, William Thorogood.
Further to this, two other Ravensbourne projects were commended by the LEGO judging team, 'Nogginz' by Andrew Davis, and 'Zoop', a den building kit, which was a collaborative project between Andrew, Charlie Hudson and Charlie Pizzoferro. Julia Simenyi was also commended at the awards, recognised as one of the top ten students by lifts manufacturer Stannah for her innovative design for a new folding seat intended for Transport for London.
Commenting on the awards, Sarah said: "Winning the LEGO Award at New Designers was an amazing experience. I wanted to create a product that promoted diversity in kids' environments so they could grow up to be more accepting of others. I developed a range of non-gendered soft toys called The Eeples, which have different abstract parts that can be attached anywhere on the body, allowing kids to express themselves. It was great to have LEGO recognise my work, and I am very much looking forward to visiting their offices in Denmark."